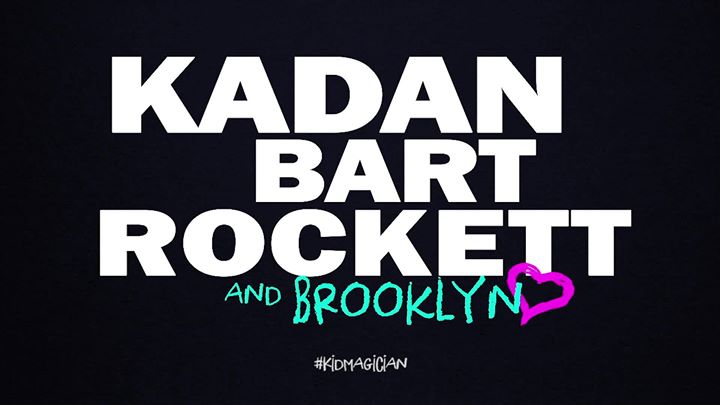 I don't think there will ever be another show like Kadan Bart Rockett. The kid illusionist came to the Garde Arts Center in New London, Connecticut with his sister Brooklyn to put on a show like no other. Alongside upcoming singer Mari and his father, Bart, there was nothing short from stopping the fun once the doors opened bringing in families from all over.
Patrons were coming in flocking to the bar for food and drinks before the show, as well as, pick up souvenirs from the show. Being sold were T-shirts, the DVD Dark Skies featuring Kadan as an actor, posters to be signed after the show. Not only that but magic tricks that were being featured in the show like a rope trick and magic coloring books.
However, the table that brought the attention for most was the once set up for the New London Youth Affairs. Located in the heart of New London, the New London Youth Affairs aims to help local youth make better choices in life through offering programs for summer jobs and after school programs. I got a chance to talk with some of the employees who are part of this fabulous organization. "I work for NLYA. When I heard about the opportunity to come and tell people about what we do I was really excited," Nicole enthusiastically tells me. Alongside her was director Ellen Kleckner, a coordinator for the program she told me about the programs they have for the local youth. "We have programs for children who are preschoolers all the way up until twenty-one. We have after school programs, summer jobs, juvenile review boards to help kids who make mistakes make better choices," she tells me going in depth. Not only does the NLYA help out children, but they have programs for parents as well. "Parent leadership programs where we help parents learn how to advocate for their child," she explains. "We have a substance abuse prevention program called SADD (Students Against Destructive Decisions)," Ellen tells me wrapping up the programs they have for all in New London. There were teens who were attending the program who were part of their program called Teens in Action, many of them were excitedly waiting in the lobby interacting with the employees, whom I believe, have become role models for them.
When the time came Steve Sigel took the stage to welcome everyone to the show. After sending out birthday wishes to audience members he welcomed on stage Joyce Resnikoff from the Mistick Village. As a sponsor for the show, Joyce welcomed all and commended the parents and grandparents for giving the children the chance to enjoy live theater. Joyce then welcomes up a representative from Charter Oak Credit Union as a new sponsor to the Garde Arts Center. After giving a warm word of welcome and thank you to the audience, he handed the microphone back to Joyce who gave a personal welcome to the teens attending from the New London Youth Affairs. Asking them all to stand so they can be recognized for being a phenomenal group.
The lights dimmed leading Mari, who is co-hosting, to come onto the stage. Singing in both English and Spanish she stepped off the stage to interact with the audience by encouraging everyone to get up and dance. After a couple of songs and a quick selfie it was time for the main event. With introductions and clips from America's Got Talent Kadan and Brooklyn Rockett made their way to the stage. Using many of their acts from the popular television show, like Kadan cutting Brooklyn in half and a missing twenty dollar bill showing up in a peanut butter and jelly sandwich, the fun didn't stop. When their dad, Bart, came onto the stage he helped them answer questions and show some of his ventriloquism to the audience with a puppet named Willard.
Before everyone knew it intermission had come. At a table for a program called Child Fund, Mari was helping people sign up to sponsor a child and signing autographs. Right before intermission began Mari came on stage to share her personal story of being adopted to help her explain Child Fund. By explaining Child Fund helps children in need by providing them the supplies they need for an education, clean water, and clothes there were many patrons signing up. Not to mention, there were patrons who were buying her CD and T-shirts for Child Fund.
Other than signing up for Child Fund, there were patrons who were buying tickets for a backstage pass to meet Kadan and Brooklyn as well as learn a few magic tricks. Some patrons were asking questions about upcoming shows like The Wizard of Oz on May 3rd and Popovich Pet Theater on March 16th. Others were asking about music acts like Lyle Lovett and Shawn Colvin on March 3rd and Air Supply on March 10th. When the announcement came for everyone to return and take their seats there were patrons taking brochures with all of the upcoming events at the Garde.
When Kadan and Brooklyn took the stage the time flew by before he started welcoming local dancers out of a box on stage to end the show. Kadan and Brooklyn announced they would be out in the lobby to sign autographs alongside Bart and Mari. In the lobby the lines for posters to be signed and a photo to be taken seemed endless. When Kadan and Brooklyn to their seat in two directors chairs set up in a mini photo studio the fun didn't stop. There were questions about a mysterious white powder being sold called "Rockett Gel" and posters being bought hurriedly by anxious patrons for an autograph.
In the end, it truly was a magical night at the Garde Arts Center brought on by Kadan Bart Rockett and his sister Brooklyn. This one of a kind brother and sister magic act is one that can't be matched. With their father, Bart, using his phenomenal ventriloquist act and lovely singer Mari I don't think there is anything stopping this show.